Why Should I Clean My Computer?
You know it's time to perform a major clean up on your PC or laptop when:
It's taking longer and longer to boot-up
Your computer is running slower than usual
You are getting error messages
All these issues point to the Windows® operating system getting overloaded or bogged down due to things like corrupt and deleted registry files, invalid system references, file bloat and more. Although these are all common issues, they do in fact slow down the performance of your computer. Some of the causes of these problems include:
Reduced storage capacity due to 'file bloat'
Virus, spyware or malware
DLL issues
Competing applications
Browser add-on/plug-ins
Download and optimize your computer in 3 easy steps!
It's simple! Follow the steps below and within minutes your computer will be back to its top form:
Click on the "Start Download" button below
Select Open or Run to install PC Cleaner
Click on Start Scan button to start - that's it!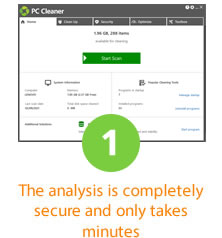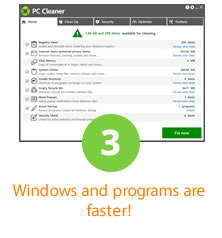 There are steps that can be taken to clean up your PC or laptop that will enhance your computer's ability to function more efficiently. It is important to make sure that your Windows® operating system is updated on a regular basis. This will ensure that you have all the latest fixes and patches as they are released. Any software that you use on a regular basis should also be updated as they become available. This will help fix any 'bugs' in the original software. Regular browser updates should also be a routine part of your computer maintenance plan to help prevent any vulnerability within your browser.
While an antivirus program is a must on any computer that is connected to the internet, many can take up more space than your PC or laptop can spare and will deplete memory and system resources causing havoc with your Windows® operating system. It is important to get the version that is right for your particular computer.
Even with careful and regular maintenance, overtime, you will find that your computer is running slower than usual, start-up is taking longer than it should and new programs are also taking way to long to load. The simple solution to keeping your PC or laptop running at peak efficiency is by running PC cleaner.
PC cleaner is designed to safely search out, fix and/or eliminate programs, files and errors that continue to slow down your computer's performance and efficiency. PC Cleaner will also protect your privacy by removing any tracking files that can compromise sensitive and private information stored in your computer.
Just like your car, a little preventative maintenance along with the right tools will keep you running smoothly and at optimum efficiency. The right tools for the Windows® operating system on your PC or laptop is PC Cleaner.