Clean Your Windows® PC in Minutes... Automatically!

Find out what ails your PC in mere minutes: small download (3.2 MB) and lightning quick! Full registration highly recommended.



By clicking the Start Download button above and installing PC Cleaner (3.2 MB, Less than 1 minute to download, 29.95 ), I acknowledge I have read and agree to the PC HelpSoft End User License Agreement and Privacy Policy.
Your Computer. Only Faster... Safely Clean Your Windows PC or Laptop Automatically!
Clean Out Junk Files & Free Up Valuable Disk Space
Searches your hard drive for junk files and permanently removes them; freeing up memory for your computer to run more efficiently.
Fix Windows Registry Corruption
Automatically scans the Windows registry and corrects invalid entries and errors.
Clean Privacy Files
Scans your computer and deletes temporary privacy and internet files.
Repair Invalid File Associations
Ensures your files open with the properly associated programs.
Custom-Tune Your Windows Settings
Guides you on the best System, Internet, and Security settings for your computer.
Boost Windows Startup & Shutdown Times
Allows you to easily manage the programs that launch when Windows first starts; ensuring faster load time and improving overall system stability.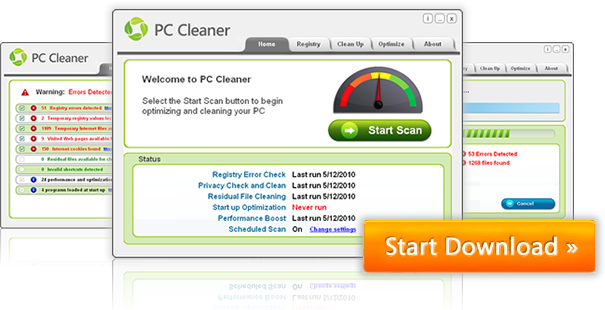 By clicking the Start Download button above and installing PC Cleaner (3.2 MB, Less than 1 minute to download, 29.95 ), I acknowledge I have read and agree to the PC HelpSoft End User License Agreement and Privacy Policy.
Optimizing Windows Doesn't Have to be Difficult
Restoring your PC or laptop's 'fresh out-of-the-box' is easy - if you have the right tools. PC Cleaner's design reflects an acute awareness of the delicate nature of cleaning the Windows file system safely. As a result, we've spent literally hundreds of hours tweaking and testing PC Cleaner to get it just right.
Download Your Copy of PC Cleaner Today!
(3.2 MB MB, Less than One Minute, & Always 100% Virus & Spyware Free. Full registration highly recommended.
It's simple! Follow the steps below and within minutes your computer will be back to its top form:

Click on the "Start Download" button below
Select Open or Run to install PC Cleaner
Click on Start Scan button to start - that's it!


3.2 MB Download. Full registration highly recommended. Requires Windows 8, 7, Vista or XP.

By clicking the Start Download button (left) and installing PC Cleaner (3.2 MB, Less than 1 minute to download, 29.95 ), I acknowledge I have read and agree to the PC HelpSoft End User License Agreement and Privacy Policy.



Download Supports:



Let us know what you think
We'd love to hear from you, if you're happy or even if you're not - we're here to help! You can send your comments through our contact page.
Please note that you are downloading a version of PC Cleaner which initially provides limited functionality to identify the files recommended to be cleaned. You will be given the option to register the product for 29.95 to enable access to full cleaning features of the application. This includes 1 year of technical product support. Every PC Cleaner purchase is also backed by our full 15-day money back guarantee.
Home | Privacy Policy | End User License Agreement | Support | How to Uninstall PC Cleaner | Contact Us | Follow Us on Twitter
PC HelpSoft Inc. 300 - 422 Richards Street, Vancouver, BC, V6B 2Z4 | Email support@pchelpsoft.com
Copyright © 2013 PCHelpSoft.com. All Rights Reserved.